Wolfe Ranch
Electronic Photo Album
---
Wolfe Ranch is a part of Arches National Park, near Moab, Utah. It was started by my great-great-grandfather, John Wesley Wolfe, after the U.S. Civil War. He lived there until a few years before his death in 1913. Before he started the ranch, he lived in Etna, Ohio, (just east of Columbus), and he returned there after he sold the ranch. He is now buried in Etna. These pictures were taken for us by a friend of my sister in 1997, who was passing through the area on business. Since I've never been there myself, these pictures will have to mostly speak for themselves.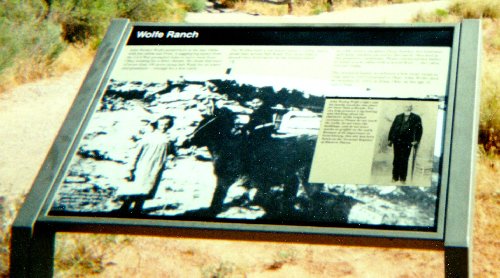 Above: Two views of a plaque near Wolfe Ranch, describing its history (this is one photo--one picture is an enlargement of the other).


Below: The various buildings comprising Wolfe Ranch.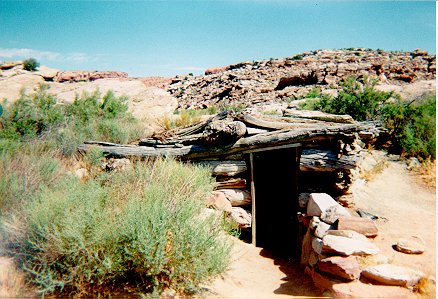 Below: A few pictures of the corral.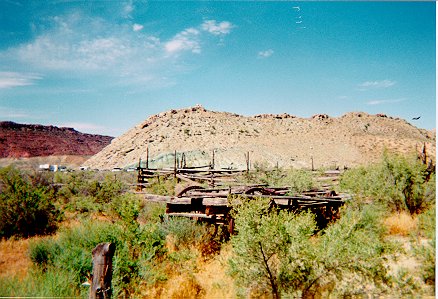 Below: A couple of pictures of the area around Wolfe Ranch.


Below: Two views of one of the arches that give Arches National Park its name.


Below: Note the images drawn on the rock.

Well, that's the best of the batch. I really don't have much more information than what you see here. At the time I originally posted this page, there wasn't any other information available on the web about Wolfe Ranch, but that has since changed. I don't have any other Wolfe Ranch pages linked here, so you'll have to search for Wolfe Ranch in your favorite search engine to find them. Full disclosure: I did alter several of the pictures in an attempt to eliminate the tourists who got in them. Mostly, I just cropped the pictures, but I did actually air-brush one photo to get rid of somebody.
If you have any information about Wolfe Ranch, please email me.
---
Jeff Wolfe's Web Site.
---
Wolfe Ranch / Copyright © 1997-2001, Jeffrey A. Wolfe / jwolfe@jwcc.com